FemiGen to balance female reproductive system
FemiGen Capsules
Retail:

$30.59 USD
Wholesale:
$23.25 USD
FemiGen™ capsules were formulated with herbs and amino acids designed to balance and support the female reproductive system from youth through menopause.* FemiGen combines whole food herbs like wild yam, damiana, and dong quai, along with synergistic amino acids and select essential oils to supply nutrition that is supportive of the special needs of the female systems.*
How to Use
Take 2 capsules with breakfast and 2 capsules with lunch.

Keep in a cool, dry place. Do not expose to excessive heat. Keep out of reach of children. If pregnant or under a doctor's care, consult your physician.
Ingredients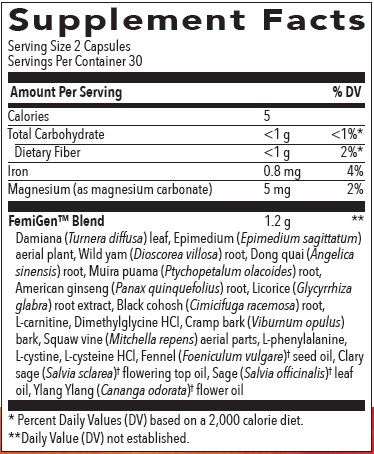 ‡ Extracted 4:1 ration in 50% ethyl alcohol and 50% distilled water
†Young Living Therapeutic Grade™ essential oil